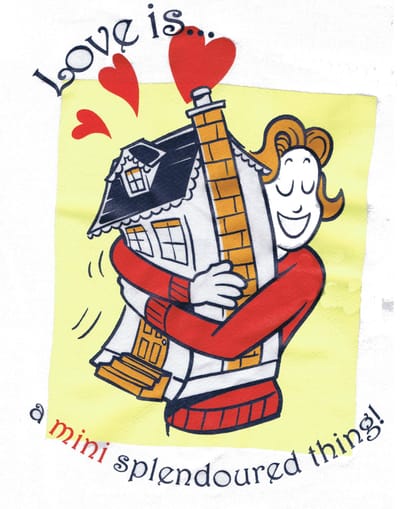 The M.E.E. Club started on January 19, 1982, so we have enjoyed 40 years of making minis! For
Our membership is currently more than 60 members, from all across Canada (and a few from the US). When the pandemic hit, the Miniature Enthusiasts of Edmonton (M.E.E.) Club made a smooth transition to meeting and conducting workshops on ZOOM.
We meet on-line every Tuesday night at 7:00 p.m. MST. The first Tuesday is our General Meeting. On this night "mini" business is discussed along with a "show and tell". Birthdays are celebrated with a miniature birthday present. Sometimes there is a demonstration or a video following the meeting.
The third Tuesday of each month is a workshop, also starting at 7:00 p.m. and lasting about 2 hours. In addition, the club usually holds one or two all day workshops every year on a Saturday, usually in the spring and fall. Other half or full day workshops are sometimes periodically scheduled, depending on what we are working on. Our workshops appeal to both the beginner and advanced miniaturist. They are optional and the cost of kits is usually quite reasonable. All other Tuesdays are general chats to discuss and show off what we are working on.
We periodically host special events, such as on-line or face-to-face garage sales, and for the last two years of the pandemic have done a virtual Show and Sale. 2022 marked our return to a face-to-face Show and Sale.
A membership in the Miniature Enthusiasts of Edmonton is $20.00 a year, which covers attendance at all meetings, workshops and chats. If you're curious, you can check out our
bylaws
.
We welcome all new members, beginner or advanced. Our goal is to enjoy our love of miniatures and dollhouses and to encourage our creativity by learning to make "mini" things and to learn from other members. We have a lot of fun and many wonderful friendships have been made in our club.
For more information about joining M.E.E., contact our membership chair, Margaret Wolfe, at
edminiclub@gmail.com
.